3 Tips to Shatter the Poison of Perfectionism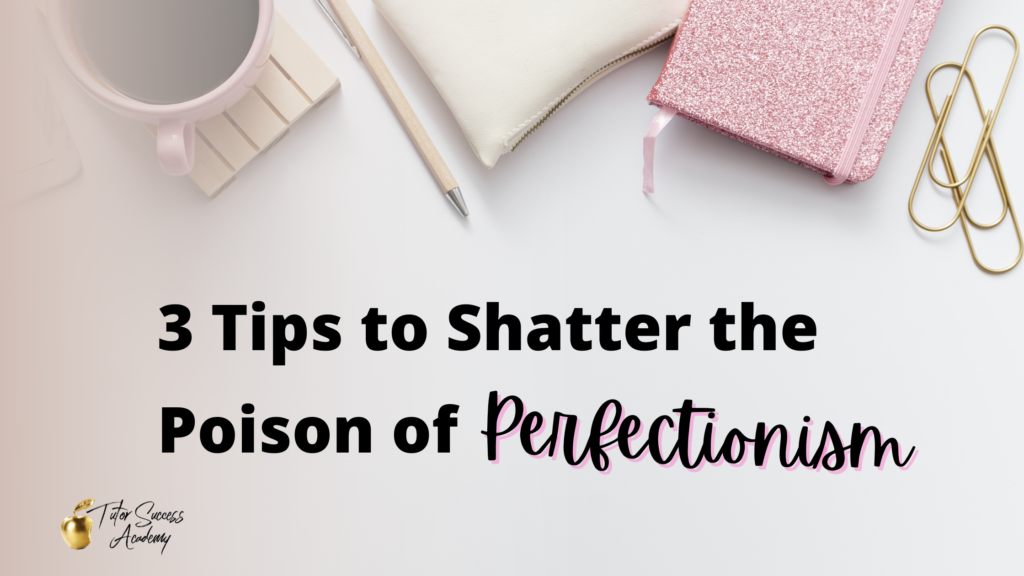 Have you been poisoned… poisoned by perfectionism?
We meet so many teachers and tutors who struggle with the need to be perfect. The problem with perfection is that it holds us back. So many of us don't want to share things about our tutoring business or our offers because they're not perfect, yet.
Waiting for perfectionism can be a poison because it keeps you from moving forward. The families you serve need you to be out there now. They don't need you to be perfect in order for you to have an impact on their child.
Here are 3 things to remember the next time you're staring perfectionism in the face!
1. Think about it from a different perspective.
Put yourself in the shoes of the families you serve and think of things from their perspective. They need you and your help more than they need you to have a perfect website, social media posts, logo, business cards, or whatever it may be that is keeping you stuck. They need your help, now.
There are so many families that are seeking solid intervention for their kids. Sure a professional website is great, but that's not what these families need from you the most. You do not need a perfect website (or whatever it is that's holding you back) in order to release an offer that so many families can benefit from right now.
2. When you show up as your imperfect self, it makes it easier for families to connect with you.
Don't wait to show up as a perfect version of yourself. Being your honest, authentic self will make you more relatable to families and make it easier for them to connect with you.
We are all just humans, doing human things, living human lives. It is not just okay to be human, it is best to show the human version of yourself – not just the polished perfect version all the time.
Now, we don't want you to misunderstand, you absolutely should show up for your families as a professional. But, even professionals are human. Families are going to connect with you based on who you are and how you show up in the world. Seeing you as your regular, human, imperfect self might actually be the exact thing that makes parents realize that you're the perfect fit for their child.
You don't have to be perfect to be professional.
3. Set reasonable goals for yourself.
When you're setting your goals, make sure that they are attainable. If you know you want a brand new, beautiful website, but you also know you can't do it alone, that is okay! Find someone else who has the expertise and background that can make it what you want and get it off the ground.
An attainable goal for you might not be to build your own website. It might be to find someone who can build the website for you so you don't feel so overwhelmed. Or, an attainable goal might be to start off with a simple one-page site.
It is absolutely okay for something to be good enough, for now. You always have the ability to change it, improve it, or update it later on. Eventually, you can make it what you really want it to be.
Looking for clever ways to change and update your offer? Read 4 Tips to Refresh Your Offer for the New School Year!
Setting attainable goals will help you to keep a positive outlook. Keep in mind that what's attainable for you may change over time. If you set a goal that seems attainable at the start, it's okay to adjust as needed. Life happens for all of us.
Read more about setting healthy boundaries when you run a tutoring business (for yourself and for others.)
Get Clients Masterclass Bundle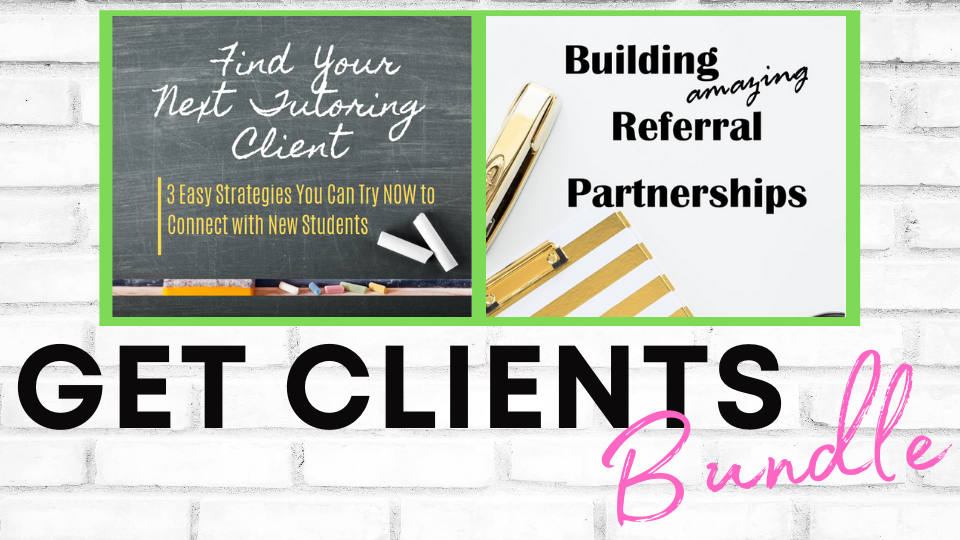 You're learning a lot about building your business, but we know the most important part of building your dream tutoring business… finding new students! Click here for access to our Get Clients Masterclass Bundle!
Perfectionism can sting but you can be reflective and move forward without feeling stuck.