4 Tips to Refresh Your Offer for the New School Year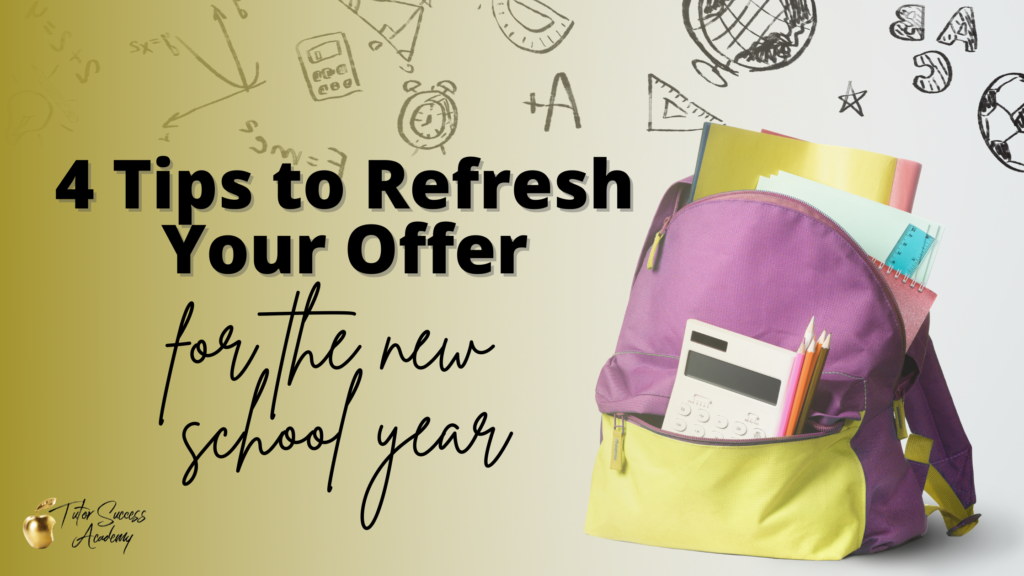 The new school year is just around the corner and you may be thinking… "Is it time for me to begin prepping and updating my offer for the new school year?"
The start of a new school year is the perfect time to polish things up and get them fresh and shiny. We're here to share with you some of the things you can do (and we'll be doing too!) to refresh your offer and get it out to families looking shiny, fresh, and new! There's nothing like a little refresh, right?
Here are 4 tips to help you refresh your offer and get yourself ready for the new school year!
1. Take a quick look at your paper advertising.
Your paper advertising might include your business card, brochures, or anything tangible that you'll be handing out to potential students and their families. Make sure all of the information you're sharing is up-to-date and still correct. If anything about your offer has changed, make sure that change is reflected.
Also, consider updating images to freshen things up and to get you excited to hand it out again at the beginning of the new school year.
And, don't forget to make sure you have enough! Look at what's coming up on your schedule. If you have networking events or any other engagements coming up, make sure you have enough paper goods to go around.
2. Take a look at your online advertising.
Look around your website and consider if the images you're using are fresh and eye-catching. How about your logo? Is it time for a redesign? Every now and then, it's a good idea to thoughtfully take a look at that.
When looking at your online advertising, also consider making seasonal changes. Do you want to swap out some stock photos to use ones that better reflect a back-to-school look? And if you use sites like Canva (like we do!) they have so many great back-to-school designs and stock photos available – making this really quite simple for you.
Also, take a closer look at your copy. Particularly, take a look at the descriptions you've written of each of your offers. Does your copy accurately explain what you are currently offering? Make sure it's broken down very clearly so potential students and their families can see what it is you offer and why they should choose you.
Be sure that your copy is hitting on the timely pain points your potential family will be struggling with. We've moved past the pandemic and virtual learning so you want to make sure that is no longer the primary focus of your copy. However, it is a reality that many students are still playing catch-up. This would be a great new focus for your copy. Think about this… What are the realities your families are facing right now? Not two years ago. 
If you need help with your marketing, check out 50+ Marketing Ideas to Promote Your Tutoring Business! This incredible resource is available in our Members Academy!
3. Think about the connections you're making through videos and photos.
Now might be the perfect time to put out another welcome post on your social media channels. Or maybe, you can add a welcome video to your website. Think of something that connects with people in a new and different way – something that reminds people of the real person behind the business.
There may be new people visiting your website or following you on social media since the last time you've done this. This will help to create, with them, the connection that they are really looking for.
A fun idea for a social media post is to share a top ten list about yourself! It's a great way to create connections and start new conversations.
4. Get some new photos of yourself.
If you have an old photo of yourself on your website, it might be time to get some new photos taken with a professional photographer. If you're using a headshot on your website that is 5 or more years old, it's time for a photoshoot!
You may not be in a position at this time to splurge on a one-on-one photoshoot, and that's okay! Consider having a friend or family member take some shots of you somewhere with good lighting. Truthfully, you only really need one good photo!
Having an updated photo really does make a difference. It helps families connect with you by putting a face to the name.
For more on back-to-school prep, check out these great articles from our back-to-school prep series:
Tutor Business Planning Bundle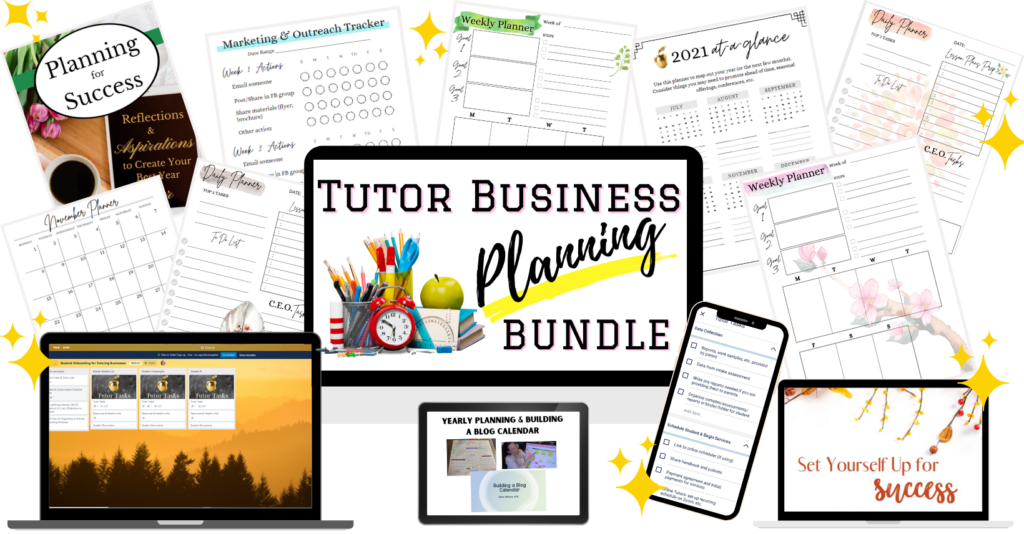 You know how to plan for your lessons… but did anyone ever help you plan for your tutoring business?! When you run a tutoring business you have two roles – educator and business owner. Sometimes the "business" side of running a business can be overwhelming. We can help! Click here for access to our Tutor Business Planning Bundle!
Refresh your offer (and yourself!) for the back-to-school season.