Recycling old emails and social media- is it okay?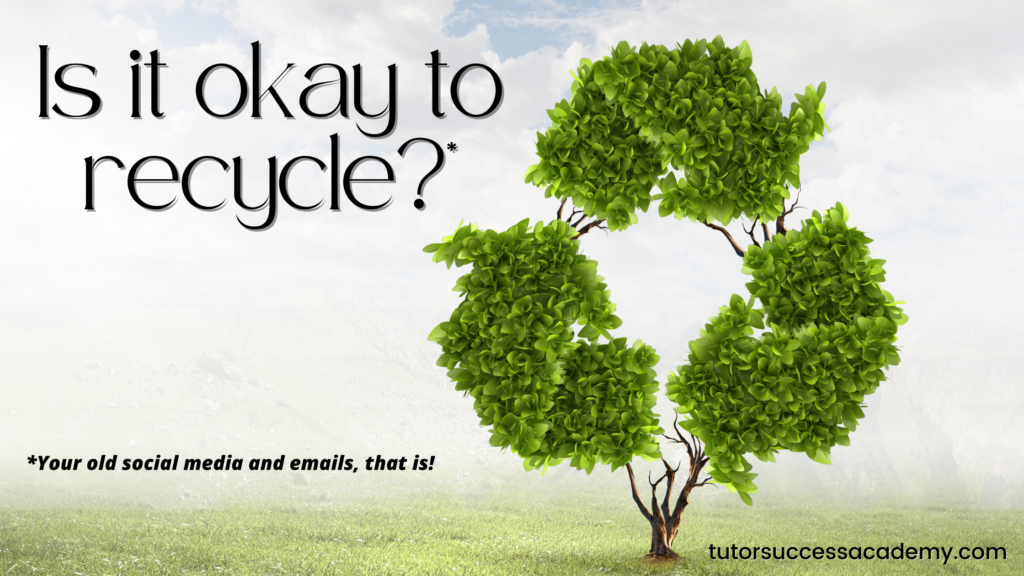 Sometimes, you get into a little bit of a funk when it comes to figuring fresh ideas to post on social media or email content. (Remember, social media and regular emailing is how you stay ""top of mind"" with your current and potential tutoring clients!)
For whatever reason, you may feel stuck and don't know how to get unstuck. After being sick this past winter and finally feeling myself again, I just didn't have it in me to dream up new and creative posting ideas. I knew I would eventually get back to my old self, but I decided to give myself some grace in the meantime.
After having an online business for close to eight years, I'm hear to tell you this:
IT'S OK TO RECYCLE CONTENT. Really. It is. I encourage you to recycle. Why?
Why should I recycle content?
Your audience may have missed it the first time you posted.
It may be seasonal content that is ok to bring back
A post might be able to serve a new purpose
You have GREAT ideas and there's no reason why you should only post them once for only a few eyeballs to see them.
What to Recycle
When I say recycle content, you may be wondering what exactly should you recycle. I'm not talking about taking a break from social media, although recycling content does free up some of your time.
Older emails that have amazing and timely tips you know your audience would benefit from seeing again.
Some social media posts really take off and some fall flat. Find the ones that performed well and schedule them into upcoming posts. Alternatively, the ones that fell flat the first time might have been clunkers purely for the time of day they were posted. Try posting the same post, tweak the wording and schedule it for a different time of day.
You literally have seconds to make an impression on an audience and potential clients when they scroll through social media if you're a tutoring business owner. It's highly probable your post about a new offer may have been forgotten about if you only posted it once.
So give recycling a try! You no longer have to limit your recycling habits to the big green receptacle.