Do you need EMAIL MARKETING for your tutoring business?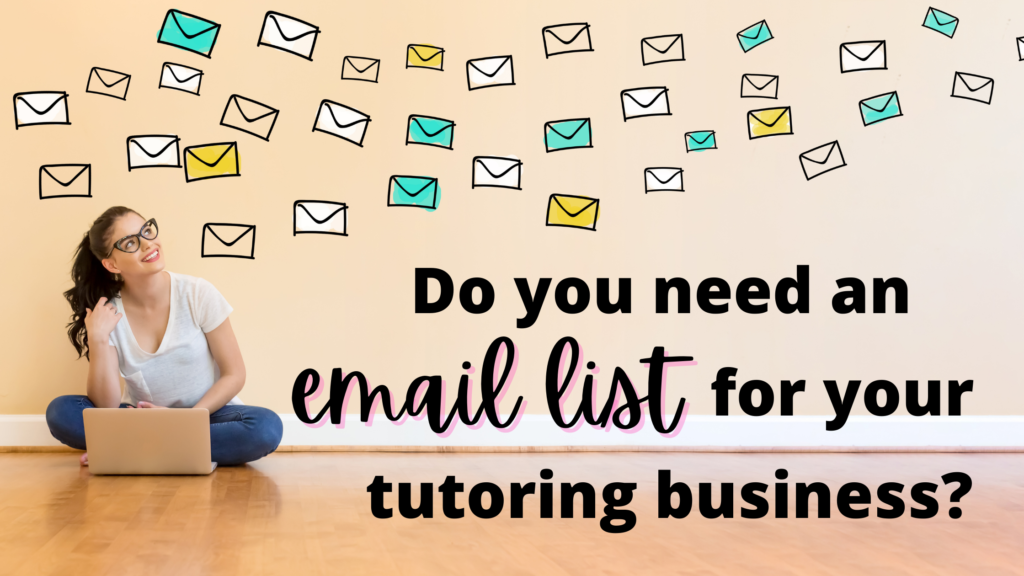 In a word? YES. Tutor email marketing is very helpful, and here's why.
Having a tutor email marketing list is your most direct way of connecting with people who have an interest in your services.
Social media is important- people are active there, and it is a great way to regularly share information and support that will help establish that you are someone to trust in your field and you can communicate with people through comments and messages.
But social media is always changing. And at the end of the day, YOU are not in control. Your account could get shut down. There is an algorithm that determines who sees what you share.
With an email list, you always have the ability to ""show up"" in people's lives- right there in their email in box!
People still check their email- regardless of which social media platforms they use (or don't use). And they're less likely to be distracted by a bunch of other things competing for their attention. 😉 If you can just get them to OPEN your email (a topic for another day), then for that moment in time, you have their attention.
So HOW do people get on your tutor email marketing list?
This is not as simple as emailing everybody you know with a mass email you send out.
We've covered email marketing extensively in our Members Academy. If you'd like instant access to a 3-part email marketing masterclass designed with tutors in mind, join today!
Permission Marketing
We're talking about permission marketing. People say, ""Yes, I want to hear from you!"" And this allows you to send out emails that people opt-in to (or choose to receive). They can also opt-out at any time.
You can get people to share their email in order to be on your email list in several ways, but we're just going to chat about two.
Opt-In
First, there is usually a way on your website to have a general ""opt-in"" box that says something like ""Want weekly tips, resources, and… (whatever you'll be sharing)? Enter your email to stay in the loop!"" In this case, people are simply giving you their email address in order to stay in touch and hear helpful tips and whatever you'll be sharing to support families. (Next week we'll talk about WHAT you could include in those emails!)
Offer Freebie
The other common way to collect those wonderful email addresses is to offer a ""freebie"" or some sort of no-cost resource that people receive immediately when they opt-in to get that resource.
Here is an example of one of ours.
(You should sign up for it and check it out!)
This opt-in gives people immediate access to a resource. Other opt-ins may connect to an email series with tips, trainings, etc.
Provide Value
When you share a resource of some sort in exchange for someone's email, you are providing something of VALUE instantly. This could be a checklist, a video, a training, a PDF… there are so many possibilities! Think about what would be helpful to a parent. This will help you create a freebie that is valuable to them.
This "freebie" opt-in method gives people a reason to give you their email address- they want that resource that you've made for them!
It also starts to position you and your services as a helpful resource to them. If you can provide something that is valuable and helpful to THEM, families will be more likely to want to hear from you again.
So… hmmmmm…
Special Platform for Tutor Email Marketing
Do you use a special platform to do this?
Yes!
You can't just send a mass email every week to everybody you know with an email address- that's SPAM.
You will want to sign up for an email marketing service/platform that you will send these emails through.
Here is a nice overview of different email marketing platforms, but do your research…there are a lot to choose from, and not all of them are mentioned here!
7 Best Email Marketing Services for Small Business Compared (2022)
Tutoring Email Marketing With Convert Kit
The Literacy Nest and Tutor Success Academy both use Convert Kit- it's a solid choice with lots of options for doing more advanced things as you learn how to use email marketing more. But you can also keep it simple in the beginning and just email your people regularly, providing value and support.
Emails are your most direct connection to people who are interested in working with you. Combining email marketing with a consistent social media presence go hand-in-hand towards establishing a strong foundation for marketing your business and SERVING your families.
Let's get this started!
Check out our Convert Kit Full Tutorial Set Up in our Members Academy!
Coming Soon…
We'll talk about WHAT you could be including in those emails to the families who have signed up to hear from you. Until then, check out this post on how to recycle content.