Keeping Your Tutoring Business Small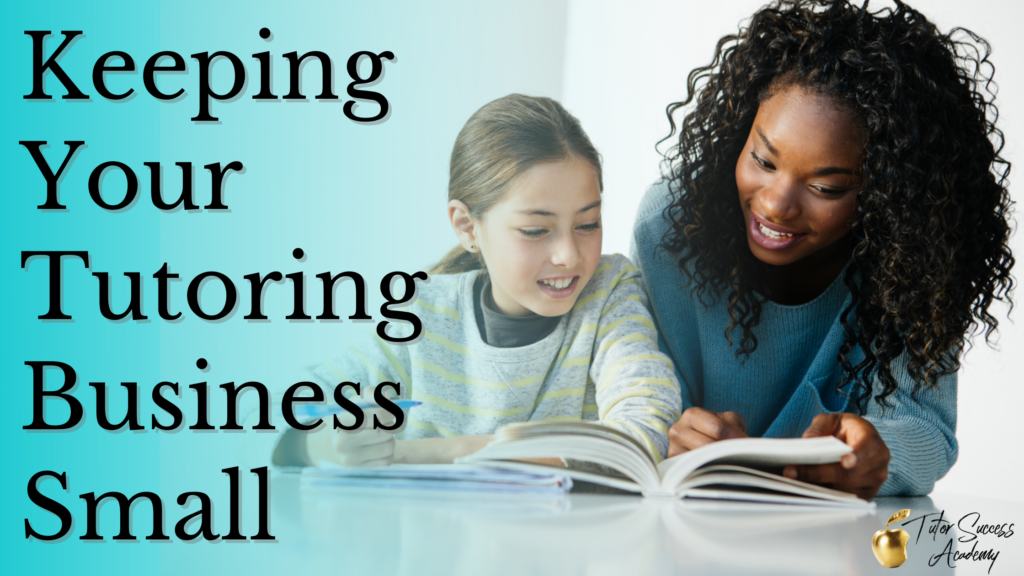 One question we always get asked is, "What do I need to do if I want to keep my tutoring business small?" This is a great question because many of us want to run a small tutoring business.
What does keeping your business small mean? Well, this is different for everybody, but it can mean only working with three or four families at a time.
If you choose to run a small tutoring business, you won't need all of the bells and whistles. Instead, you can really prioritize what you focus on and you can build a business that best fits and supports your life. If you want to keep your tutoring business small and you're wondering exactly what things you need to have in place, there are a few essentials.
Here are 8 things to focus on when you are building a small tutoring business:
Strong Network of Referrals
It can feel bad to turn people away if your schedule is booked. Giving someone an alternative tutor to turn to is a great solution. Having a strong network of fellow education professionals that you can refer families to if you don't have availability is so important. You can let that family know you are full right now, but still, offer them contact info for another great tutor. Bonus: this is a two-way street. If you happen to have some availability down the road, that referral network can send people to you! A referral network is a really nice exchange. If you're interested in setting up a referral network but don't know where to start, grab our Get Clients Now bundle. It includes a Masterclass on building referral partnerships.
Don't stress over social media
If you're keeping your business small, referrals and word of mouth will likely keep your schedule full. Because of that, you do not need to have a huge, strong social media presence. Now, if you LOVE connecting on social media by offering tips and information, if that lights you up, go for it! But, you don't have to rely so much on building a presence if you know you only need a few students to fill your schedule.
Simple Website
Many tutors don't have a website, they just share how to contact them. However, nearly everyone will go to the internet to check out a service before booking. So, we do recommend having a website, but it doesn't need to be something elaborate. It can be a simple, basic one-page website. Think, a landing place where people can come, see what you do, who you work with, and how to take the next step.
Back to the Basics
Even if you're keeping your business small, it's important to have some financial management in place. Even small businesses are businesses. You need to keep a few ducks in a row to run smoothly from a financial standpoint. This means: Register your business so that you can open a small business bank account. Once you have a small business bank account, you can accept payments. Check with an accountant to get the best advice on how to register and manage your small business. Establish a way to track your income and expenses. Even if it's something simple like an excel spreadsheet, keep up with what comes in and what goes out every month and it will make your life so much easier come tax time.
Policies
If you're keeping your business small, you can keep your policies small, too. However, still think about what types of policies you want to have in place. Even if you're only working with four families, constant cancellations and late arrivals will disrupt your business, your revenue, and that child's learning progression. Think through some of the basic policies you'll need and then keep them on a simple document that you can share with families so they can read and sign. This should include things like: Cancellation policy Payment policy Late arrivals Winter weather policy (if you live up north) If you're looking for a starting place for establishing your policies, check out our Tutor Tool Kit. It includes templates for policies, handbooks, simple agreements, and financial documents!
Set a physical space
Once you have all of the business basics set up and you're ready to start tutoring, you are going to want to also set up a physical space to use for your tutoring. This might look like traveling to your students' homes, meeting in a public library, using a rented office space, or a physical space in your own home. Think about the best physical space for you to tutor from and then consider the financial implications. If you're keeping your business small, it might not make sense to rent space and that's okay. There are a lot of different options for physical space.
Streamline your materials
Don't break the bank on decorations or materials. You don't need fancy decor. Think about the essential supplies that will get the most progress for your students. Whether you have an online or in-person tutoring business, this applies to you. Think about what you're really going to use the most, not just what's fun. You might not need to invest that money into big fancy subscriptions if you don't plan on using them that much.
Parent Communication plan
Even if you are keeping your tutoring business small, you need to decide how you will communicate progress with parents. When you are a teacher in school, communication might have to look a certain way. But, when you work for yourself, you can decide if conversations will be more informal. Just be sure to communicate with the parents exactly what they can expect from you and your communications. Here are a few options: Once a week, at the end of a session, physically show the parents what the child is working on and match it to their goals. Establish a written form that you can send out at a regular interval. Think, maybe a monthly or quarterly report.
Remember, you do not need to have a BIG tutoring business to be successful! The most important thing is that your tutoring business (and its size) is a good fit for you. If you have a small tutoring business, make it the best small tutoring business you can and run it in a way that works well for you and the families you serve. Are we connected on social?
Follow us on Facebook and Instagram for daily tips, motivation, inspiration as you build a tutoring business you LOVE.