The Power of Tutor Testimonials to Grow Your BusinesS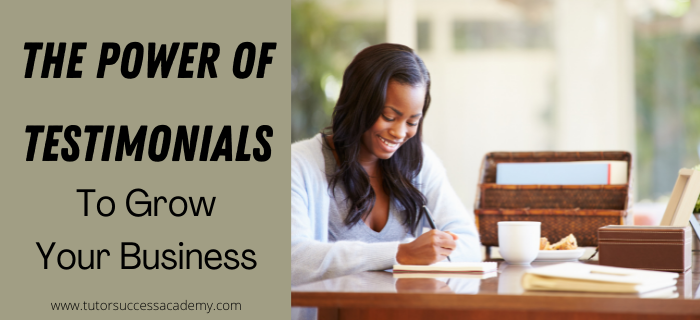 When you have happy families communicate how thrilled they are with their child's progress, that is a tremendously gratifying feeling. When you're able to capture that communication in a well-written testimonial, you have taken a major step to building your social proof. Tutor testimonials can be powerful boosts for you, your business and future clients.
Let's talk about some ways to use that social proof effectively.
Tutor Testimonial Goals
A well-written testimonial aims for three things:
Honesty
A family came to you for help and your services exceeded their expectations. Their child is making amazing progress and they can't wait to let others know. This is the heartfelt story that other families want to know about.

Mentions specific qualities
When someone reads about an experience another family had with you, they want details. Was your approach nurturing? Did their child thrive with your organizational tips?

Endorsement
What would make a family want to hire you? Even one sentence in a tutor testimonial can be enough to convince a future family to choose you.
Asking for Tutor Testimonials
A testimonial doesn't always fall in your lap. That would be nice, but you can find ways to get one if they don't.
Ask!
Yes, if you there's a family you've worked with a long time, then it's time to ask them for one. Send a Google Form with targeted questions that will guide them to answer in detail. ""How did you notice your child was making progress?"" ""What are some things that worked well for your child?"" You will want to inform people of the form's intent, which is to share information with future clients about your business. Ask them to grant permission for you to use a quote from their answers.
Even one testimonial can be enough to get you started, so don't worry if you don't have a whole slew in your files. They're meant to be shared widely and in a variety of ways. Once you have a collection of a couple of testimonials, sprinkle them like confetti.
Looking for even more on testimonials? Check out the Power of Testimonials Video Training, a 40+ minute masterclass full of tips and tricks on acquiring testimonials from your clients. . Get instant access to this training when you join our Members Academy!
Sprinkle Tutor Testimonials like confetti
If you're trying to find creative ways to sprinkle a really rocking testimonial into your content, here are three places you definitely want to weave them in.
On your website:
If you have detailed and thoughtfully written testimonial, you can stick that in a few places on website. It can be in the "About Me" section at the very end, a specific page on your website that is dedicated to testimonials, a sidebar, footer, or where you share your offers and services. Consider using a different font or creating a styled image with a text overlay of the testimonial in Canva to make it really stand out. If you are able to include a photo with permission, that is even better.

On a flyer:
Those paper flyers are still a great way to grab future clients' attention! Place a testimonial at the very top of bottom. You can use the same styled image from your website on the flyer. Repurpose!

On social media:
That same styled image can get a lot of mileage. Repurpose it as a post on social media, OR resize the image in Canva to create it as a Facebook cover photo for your business page.
One Last Tip
It's WORTH IT to take the the time to make your tutor testimonials look professional. Using design websites like Canva make it really easy to give your testimonial the love it deserves and will make them much more noticeable.
I hope this post has sparked some ideas for you, your website, and for curating fresh content that matters. Here's to testimonials that boost your tutoring business!
Ready for More?
Check out our latest video below with 2 quick tips for getting those testimonials! Then check out our Get Clients Masterclass Bundle with more ways to bring new clients to your tutoring business.