8 Unique Types of tutoring businesses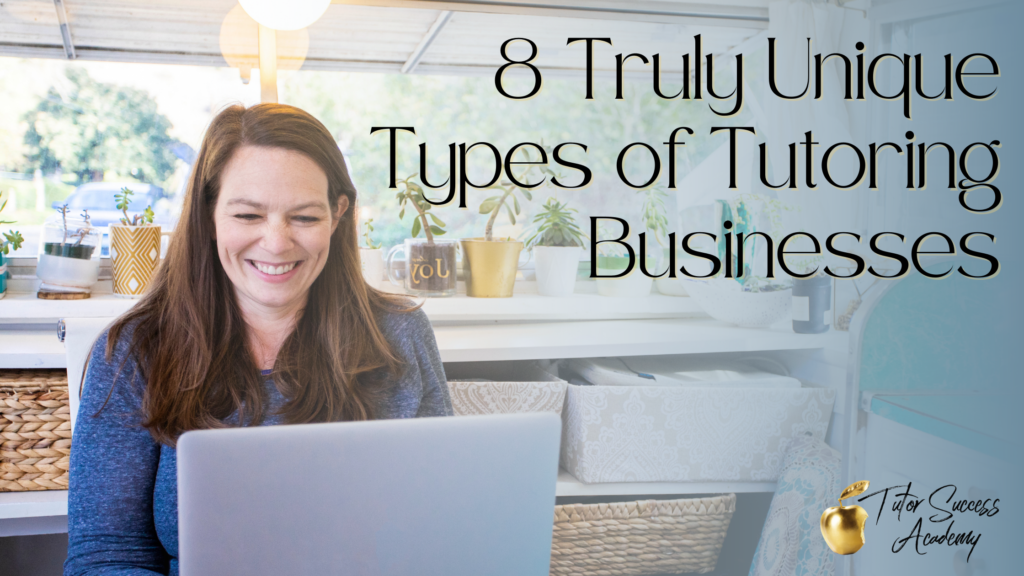 You might have a picture in your mind when you think of what a tutor is… but tutors have LOTS of different kinds of business! Your dream tutoring business might look different from ours. Hey, our businesses even look different from each other. There are so many different ways to tutor students and so many different ways to run a tutoring business. If you have gotten stuck thinking that a tutoring business can only look one specific way, let's take a minute to brainstorm a few different types of tutoring businesses. Maybe one of these is exactly what will work for YOU!
Retired Teacher
You might be a retired teacher looking to supplement your income. We know lots of retired teachers who still LOVE working with kids. They're also looking to bring in a little bit of a supplemental income. Taking on a few tutoring clients is the perfect solution for them!
Stay At home mom
You might be tutoring so you can stay home with your kids. Many tutors have small children with whom they want to stay home. They aren't interested in working full-time outside of the house. Instead, they take on a few students to tutor in the evenings. This gives you the opportunity to be home with your children while they're young but also still earn an income. It's a win-win situation!
Groups or Clubs
You might tutor in groups. Not all tutors work 1:1 with students! You can plan group sessions where you're not just working 1:1, instead, you work with a small pod of students who maybe need some intervention or some supplemental learning in the summer. There are so many creative things to do if you tutor in group sessions. Clubs are really fun for that, group sessions are always awesome.
Leaving the classroom
You might be looking for a new career path. Many tutors who leave teaching full-time go on to have a full-time tutoring business. Just because you leave the classroom does not mean you have to leave education.
New Career path
Maybe you were never a classroom teacher. Many tutors have a background in education but choose the path of working 1:1 with students or in small groups in private sessions.
Traveling Tutor
You could be a traveling tutor. We know so many tutors who hop in their RV and hit the road but their tutoring business never misses a beat. Maybe you don't travel in an RV, but you move from location to location while tutoring, anything is possible! Obviously, this would need to be online tutoring. How fun would that be! If you want more information on the RV tutoring lifestyle, check out this awesome interview with Wendy Dobesh.
School Contractor
You might be contracted by a school. Maybe you have your own private tutoring practice but you could be contracted by a school district to work with kids either in-district or in their building. This could be a private school or a public school. There are successful tutors who do contract out their services. You can even contract to tutor with other agencies as well.
Online Tutor
You could tutor online. You may not have considered this yet, but don't count it out! Online tutoring offers so many opportunities and it allows you to connect with students all over the world! It can be a really fascinating career path.
No matter which you decide is the best fit for you, embrace being the C.E.O. of your own tutoring businesses! Check out the Be the CEO of Your Business Training in our Members Academy!
What kind of tutor are you?
There are so many paths to educate children! This list of unique types of tutoring businesses only scratches the surface of the many ways you can work with students as a tutor. Are you curious about what YOUR dream tutoring business could look like?
Sign up now for a spot in our FREE 3-part workshop series "Build Your Dream Tutoring Business." Get instant access, HERE!