Should I List My Tutoring Prices on my website? Why You Want To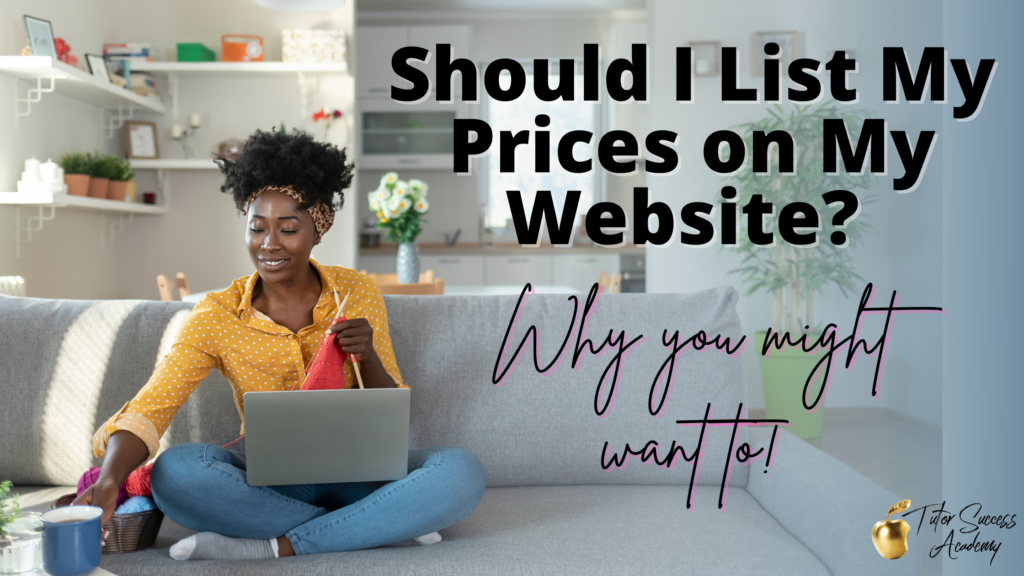 "Hey Emily and Jill, should I list my tutoring prices on my website?"
In messages, in emails, in conversations, and with every single cohort – this is one of the most common questions we get asked.
It's not so simple to answer, though, because the answer might not be the same for everyone. In this two-part series, we'll explore why you might want to list your tutoring prices on your website AND why you might NOT want to list your tutoring prices on your website.
Let's start by looking at why and when it might be a good idea to list your tutoring prices on your website.
3 Reasons Why You Might Want to List Your Tutoring Prices on Your Website:
1. Clear communication.
When you list your price on your website, you are establishing clear communication with them from the start. The price is right there in black and white. They search, they see it, they know what to expect, and they can plan accordingly.
Having that clear communication can be a benefit for families.
2. Avoid uncomfortable conversations.
Let's face it. Talking about rates and money can be uncomfortable. Having your rate posted on your website can make having those conversations a bit less uncomfortable because the families know what to expect. This will allow for an easy flow into a conversation about the child.
You can now spend more time discussing concerns, goals, and what the family is looking for in a tutor, and less time talking about prices and rates.
3. Things become more streamlined.
When you list your rates on your website where parents can easily find them, you have streamlined their search process. Now, because of that streamlined search process, they're able to more quickly make decisions and begin tutoring right away.
Plus, you're able to start your conversation further along with onboarding! And don't we all want a more streamlined onboarding where we can begin working with a child more quickly?
Whether or not you choose to add your rates to your website, be sure your website is memorable! Check out Make It Memorable – Website Advice for Tutors, available as part of our Members Academy!
If you decide to list your prices on your website, keep these Potential challenges in mind…
1. Listing your prices on your website, depending on what they are, might lead a parent to stop right there and take no further action.
As human beings, oftentimes we think with our wallets. What that means is that we might see a price and immediately think, "Nope, that's just too much." Then, we don't even look any further. We see a price, we decide that is a price we're not willing to pay, and we move on. We never actually take any action to find out if this service is what our child actually needs. So, listing your price may actually stop a family from taking the next step even if they could really benefit from your services.
2. Sometimes a family might not understand the value of your services (especially if they are more specialized.)
If you charge more than the average academic tutor, because you offer more specialized services, it can be difficult to communicate that value in the price listed on your website. If families are only familiar with, say, Homework Help prices, they may not understand why your prices are higher. They may not even realize that they are comparing two completely different services, like comparing apples and oranges. For more information about specialization in your tutoring business, read What Kind of Tutoring Business Owner are You?
If you list your price on your website, you have the burden and the responsibility of also communicating the value of your services on your website – especially if you are charging more than what a family might view as a typical tutoring rate.
Get Clients Masterclass Bundle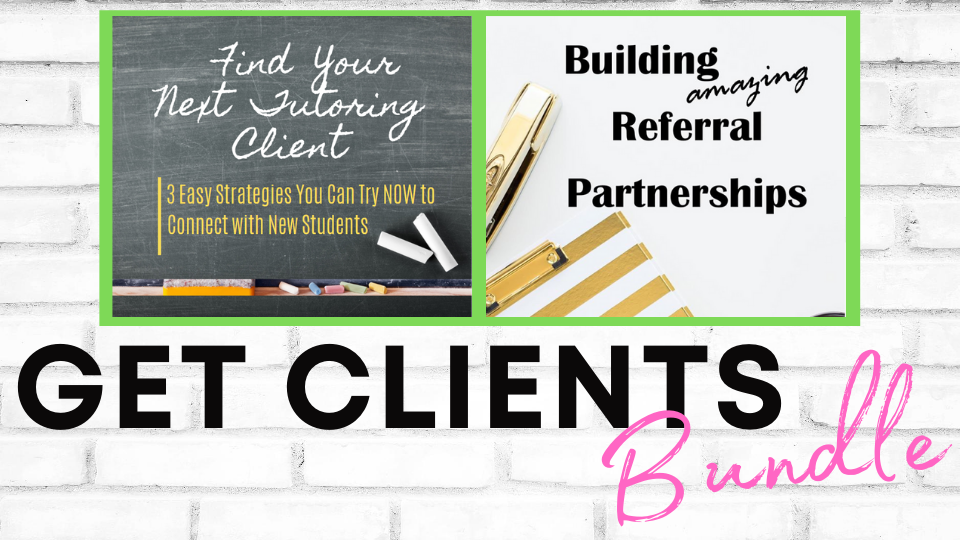 You're learning a lot about building your business, but we know the most important part of building your dream tutoring business… finding new students! Click here for access to our Get Clients Masterclass Bundle!
When it comes to listing your prices on your website, do the pros outweigh the cons? Only you can decide that for yourself and your business.